"One of the biggest challenges marketers face today is getting people to the hopper, getting them to convert and staying as customers for life," Jane de Libero, chief strategy officer and head of consulting at marketing technology consultancy GeekHive, recently said at MarTech. conspiracy.
There are many factors that can affect a brand's ability to attract, convert and retain customers, but almost all of them stem from one problem: disconnect. If marketers cannot properly communicate with customers due to technology, data, or empirical issues, the ROI will inevitably drop.
"There are some disconnects that prevent us from getting to where we have a lot of people converting and holding on to customers for a long time," de Libero said.
Disconnection in your marketing campaigns should be addressed as soon as possible to prevent more serious problems in the future.
Separate customer experiences
Most marketers know that customer experience is important, but many fail to understand what their customers want or how to address issues. De Libero highlighted this disconnect with customers by sharing a Forbes study, which found that there is nearly an 80% increase in revenue for companies focused on improving customer experience.
"There is a kind of disconnection because there is a desire that the client has that is not being fulfilled," de Libero said. "When we look at the stats, on average, the gap between what a customer expects from the brand and what they get was about 38%. That's a huge void."
He added, "Once these things happen, it is already too late. So, why not start ensuring that the customer experience our customers have is as great as it can be?"
Offline customer data and analytics
"While 80% of these marketers are happy to collect first-party data, only a tiny percentage of them use the data to deliver a full cross-channel experience to their customers," de Libero said.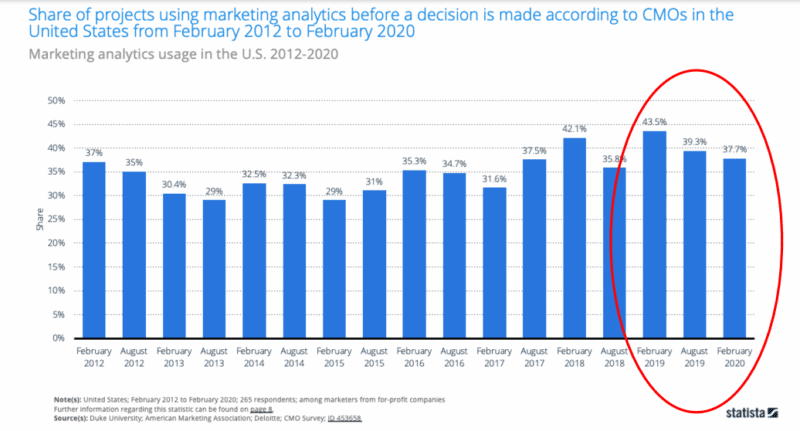 Processing a separate customer experience requires data collection. While it is not as easy to collect non-first-party data as it once was due to much-needed privacy legislation, marketers have a variety of tools and methods at their disposal to help them adapt.
Unfortunately, very few marketers use these resources, which seem to arise from quality issues and the disconnection of the data collection process itself.
"If you look at the share of projects using marketing analytics before making a decision, you can see that there is a decrease in the use of marketing analytics to drive decision making," de Libero said. "This is due to poor data quality."
Offline Artificial Intelligence and Machine Learning
There has been an explosion in the marketing space for artificial intelligence and machine learning over the past few years, mainly due to marketers' growing desire for automation. But very few brands use these technologies.
"84% of digital marketing leaders believe that AI will enhance their ability to deliver personalized, real-time experiences to their customers," said de Libero. "But only 17% use AI and machine learning across the marketing function."
These technologies can aid your marketing efforts by improving customer segmentation, automating time-consuming tasks, campaign customization, and more. Leaving them out of the process can hinder customer growth, especially for enterprise-wide brands.
How to handle a marketing outage
"The only way to increase revenue, acquisition, conversion, and retention is through great customer experiences," de Libero said. "The customer experience is paramount – it's the most important thing."
He added, "Voice of the customer will help you lead this experience."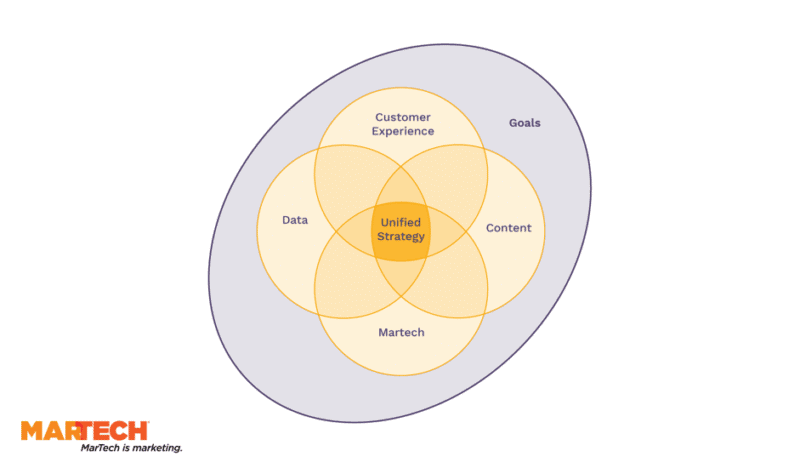 However, addressing these outages goes beyond the customer experience – even though this is the highest priority. Marketers must also standardize every aspect of their campaigns to serve as foundations for those experiences.
"If you can follow these strategies — customer experience, content, data, and marketing technology — you can standardize them and have a solid digital strategy that you can stand on," de Libero said.
"It's the foundation of digital transformation, the foundation of marketing transformation, and much more," he added.
Watch the full presentation from the MarTech conference here (free registration required).