"Buy 10- ABC at Rs. 1234; Target 5678; STT- 4321"
The inboxes of stock market investors — new and experienced — are full of such messages, hoping that one day social media will help them double or triple their money overnight.
SEBI (Indian Security and Exchange Board) recently confirmed that such distribution of investment advisory without licenses and related procedures should stop – immediately.
background –
Sometimes schemes are manufactured in order to manipulate the market for individual gain. In a recent investigation by SEBI, it was found that some people were misrepresenting themselves, through the Telegram channel, and soliciting investors to buy shares by promising high returns. These shares were already bought in large quantities by the people involved, who sold them as soon as the price went up due to the influx of investors.
For example, when someone buys 5,000 shares at Rs 45 each and induces others to buy at the target price of Rs 75 each, an increase in demand increases the share price. But, the person then sells the shares once they reach 55 as a result of the increased demand, earning Rs 50,000.
Despite the high secrecy that Telegram maintains, SEBI has been able to track down group administrators whose phones have been taken to gather more information.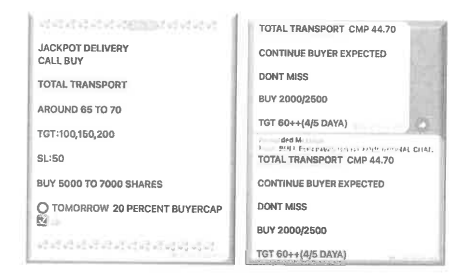 ;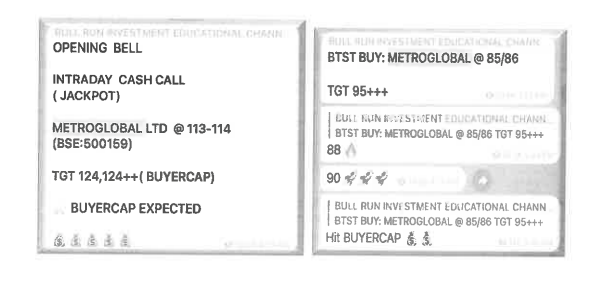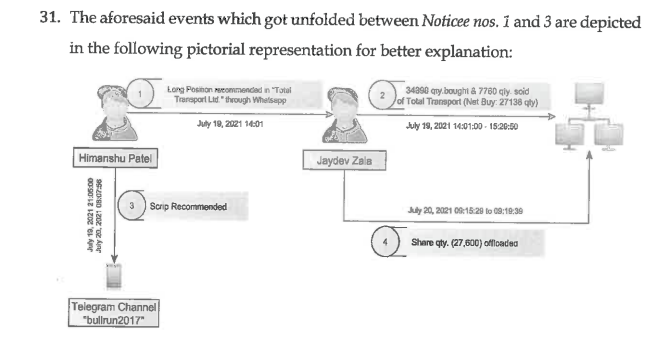 Source: SEBI Interim Order & Show Cause WTM / SKM / 54 / 2021-2022
History review –
This was not the first investigation of its kind conducted by SEBI to curb unfair practices and illicit gains. In December 2021, SEBI imposed total penalties of Rs 1.1 crore on 22 entities for non-original practices in illicit stocks that led to the creation of an artificial volume of 826.21 crore units or 54.68 per cent of the total market volume in the stock options portion of BSE.
These practices fall within the scope of Section 4(2)(e) of the SEBI (Prohibition of Fraudulent and Unfair Trading Practices Related to the Securities Market) Regulations, 2003, which states that any act or omission amounting to manipulation of the price of a security is an unfair practice which is prohibited the law.
As a result of such fraudulent and manipulative deals, these people succeed not only in manipulating the price and trading volumes of those trades, but also in enriching themselves unfairly at the expense of other investors. It is the duty of the investment advisor to protect the interests of investors to the best of their abilities.
way forward-

Not just messaging apps, but broader social media platforms like Twitter (NYSE:), Youtube, and Instagram have seen a spike in such incidents. One of the most important is Elon Musk's occasional "Gamestonk" tweet. GameStop Corp (NYSE:). The shares witnessed a massive increase of more than 150% and drew attention and contemplation. Nothing but this small, almost senseless tweet from Mr. Musk and a link to one of Reddit's WallSteetBets forums could logically explain the price hike.
With increased couch surfing, pink slips, and wage cuts during the ongoing pandemic years, retail investors are naturally drawn to the stories of frenzy in stock markets. For first-time investors or beginners, social networking channels like Youtube and Instagram have been game-changers. There is also a huge rise in the number of investors from second and third tier cities in India, after the internet boom and cheaper data plans. Financial education and investment tips from inexpensive social media channels and help them break down industry jargon.
The positive impact of social media in terms of learning and making the world truly global should not be ruled out through negative and coercive factors for itself.
What should retail investors do?
Do your own research and due diligence
The Telegram channel of nearly 30,000 people said they are in the process of obtaining a SEBI registration but have not claimed to have it.
Investors should ensure that the advice they seek or receive is from SEBI-registered brokers and not from the many social media channels that claim to be experts in finance.
2. The use and impact of social media should be limited to learning-
People's lack of personal finance knowledge makes them an easier target for these scam schemes. Emptor warnings, which is Latin to be followed in principle, let the buyer beware. An investor should always be open to learning and trying new ideas, but should avoid blindly following a tweet or series of comments from an influencer.
3. Consult a SEBI-registered investment advisor for all your personal finance requirements