Over the years from the time the first-ever newspaper was published in Sri Lanka, the advertising industry has been a thriving art form in the island. A large part of it thanks to the many entertaining, educational, and (some) controversial campaigns created by many legendary creators.
Still, for the average Sri Lankan, the internet was a luxury and advertising was something you saw on TV, heard on the radio, or read in the papers. At least in the early days. Digital communication was not a thing and data-driven marketing was rarely a mainstream concept in the country.
But come the 2010s there was a boom in cheaper access to broadband internet, cheaper devices, and smartphones – all of which contributed to the wider adoption of digital services, social media and the media consumption behavior of the people started changing rapidly. To put it in perspective, there were only 294,000 mobile broadband subscriptions by December 2010 according to TRC data. Today, that number has gone to 19,422,091 which is a 6,000%+ jump during an 11-year period.
The world of digital marketing platforms
Personally, I haven't sat in front of the TV and voluntarily watched a program on a terrestrial or DTH channel since I got my first smartphone back in 2012. YouTube, Facebook, and Instagram have been my sources of information and entertainment.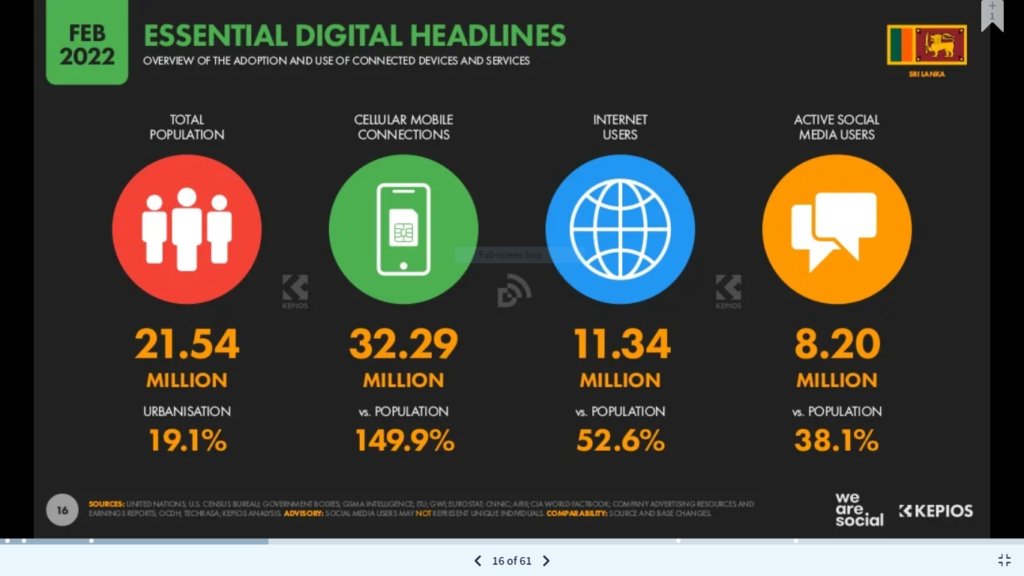 This complete immersion into digitally-driven content consumption behavior of mine is what sparked my interest in technology and led me into content writing. Which eventually landed me in an industry I did not even know existed until I met my interviewer at a coffee shop in Mount Lavinia – Digital Marketing within an Advertising Agency.
Of course, I knew about Facebook pages, YouTube channels, whatnot, and brands publishing posts and running campaigns for Awurudu and Christmas to give giveaways – which were amplified primarily via ATL media (Television, Radio, or Print) to drive traffic. With the likes of Facebook and Google doubling down on monetization avenues, and other capitalistic requirements, digital advertising became a thing globally and Sri Lanka was not left behind.
Digital marketing and advertising also brought along with it a tool that is just amazingly impressive and unbelievably scary in the right and wrong hands – Data and Insights Driven Communication. Equipped with just a basic laptop, a decent internet connection, and the know-how as to what website to visit and how to manipulate the presented information, (if properly motivated) one can analyze, identify patterns and create messaging that will be customized to cater to the eyes and ears of each person who is at the other end reading.
The role of advertising
This isn't a doomsday prediction at all. As digital technologies forces with traditional advertising storytellers it was only a matter of time until we saw this joining progress happen. And it has also created some amazing and innovative campaigns and conversations that have affected social change as well as boosted brands into fame and notoriety.
Just like every other man-made 'thing' since we first figured out how to make fire, data-driven digital communication is also a double-edged sword that can be used to enhance humanity or to destroy communities and countries. For example, I'm pretty sure you remember all the Cambridge Analytica stories and how platforms like WhatsApp fueled Digana and Aluthgama riots in 2018.
To put it in simpler words, certain technical and psychological factors that contributed to the above are also part of the reason Sri Lanka is stuck in the middle of the worst economic meltdown since getting independence from foreign powers in 1948.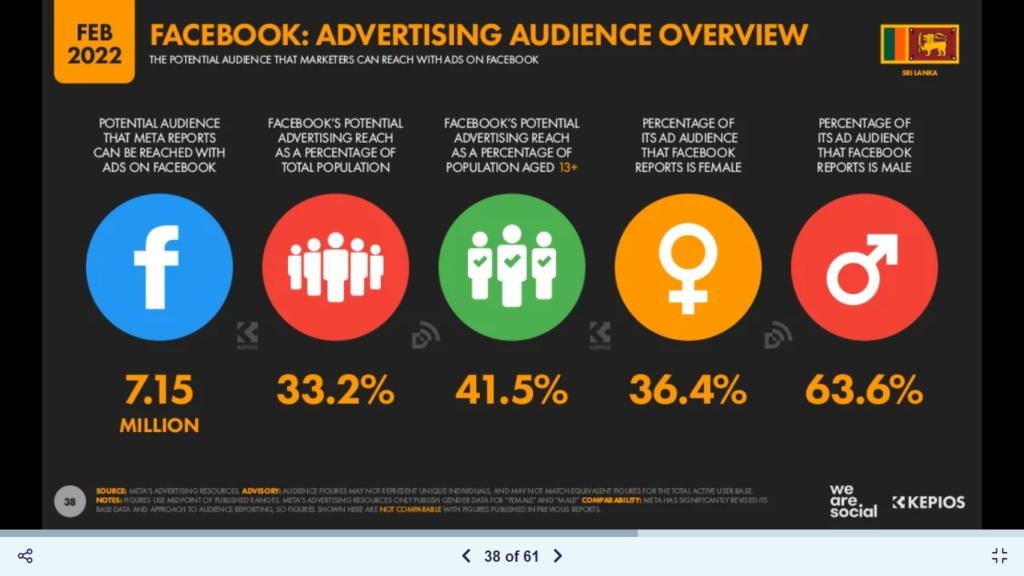 However rosy the picture painted, with stories of cool working culture, chic workplaces, flexible WFH policies, and a lot more I cannot really say out in public here – at the end of the day, advertising is an industry in which people work to make money to live.
But compared with all other industries people join to earn a living, Public Relations, Media, Advertising & Communications industry has a unique differentiator that all others don't. It comes with an enormous potential by design to influence, control, and guide public perception, opinion and behavior via media messaging. This has undoubtedly become a science now with the availability of content evaluation, sentiment analysis and instant targeted content delivery aided by advertising and audience profiling.
What all those jargon meant: we can run the posts you publish, images you post, pages you follow, websites you visit, people you interact with (and add the content they post, and people they interact with) into the complicated algorithms developed by these multinational data crunching behemoths and understand what you like, where you are (and who's around), what you would prefer to read/listen or watch on your phone, your tab or your computer at a particular time. And then customize what we want to tell you when you are at a specific location at a time, we have identified as the best time to convince you to interact with our message.
Does that sound scary? It's normal for you to feel worried that this much data is out there about you and your behavior.
But what most of the time happens is advertisers use this data to try to find the best time to convince you to buy a pizza, sign up for a credit card, buy that expensive TV you were checking out (by throwing a small discount your way ), or just show an entertaining brand video they just made, so there's a bit of top-of-mind awareness.
The Lankan problem
But this also means irresponsible usage of such immense power can lead to devastating consequences if the ones who wield it do not exercise control, particularly in a Sri Lankan context. After all, political and election campaigns have always been a subject of much controversy and contention forever, because of the real-world implications that these have in terms of shaping communities and countries for generations after they have happened.
The current Sri Lankan government is a really strong case study here. It reflects how insightful public relations and effective use of media communication are all that is required to change the fate of a nation by pushing it in the wrong direction into the hands of the utterly ruthless, and unforgivably incompetent.
Of course, people did have grievances with the previous government created by extraordinary circumstances – I am no political expert, so I will leave it at that and only focus on my take on how communication played an integral part in said election.
Advertising (or Public Communication is a better term to group all media platforms together) but not limited to Print, Television, Radio, Digital Platforms, On-Ground-Events/Activations, Out-of-Home platforms.
So, the above will cover everything from the phone one looks at early in the morning, the newspaper during breakfast, to even an overhead gantry screen like the one opposite Unity Plaza in Bambalapitiya.
Now you realize how much information you consume daily, and how many platforms you are exposed to, even though you do not consider it as such. Each one of these was used to communicate campaign manifestos, polling numbers, and party symbols during the past elections – by both sides.
We cannot just go ahead with pitchforks and burning torches to take down these. These are also platforms that bring us important news updates, connect us to the world with the latest information, and help us maintain our sanity by letting us choose the video we want on YouTube to entertain us without having to wait for the time it plays on a particular TV channel.
As operators in the advertising and communication industry, who are also equally affected along with the rest of the public we speak to, can each of us take a pledge to think of the repercussions of our actions when it comes to the next politically affiliated campaign?
After all that has happened in Sri Lanka since the Mirihana incident in early April, it's good to see some people understanding the concept of consequences,
As the public, can we be a bit more critical with what we choose to consume, and even more critical in terms of how we evaluate the information we have just consumed and how do we plan to act upon it? A few additional minutes of critical evaluation combined with some reflection on past incidents critically – on both sides, the speaker and the listener will without doubt help make us better citizens of Sri Lanka.
Because making memes to sell a condom is one thing and sharing memes to elect the wrong person who might destroy a nation irreparably for generations is a different thing altogether.