Still possibility of attack on Kyiv, Ukrainian general says
Ukrainian authorities have not ruled out the potential for further Russian attempts to capture the capital of Kyiv, said Ukrainian general Oleksandr Pavliuk in an interview with news agency Ukrinform on Friday.
"There is a possibility of an attack on Kyiv, because without the capture of the capital there will never be a victory over Ukraine," he said. "If Russia's plans remain the complete destruction of Ukraine, as it has always been, and as long as Russia exists, the heart of Ukraine — Kyiv — will be in focus."
He emphasized that Ukrainian military strategy has thus far been flexible, and that authorities are preparing for all such events. "We calculate and prepare for various possible scenarios of the enemy's actions," he said.
Russian troops committed war crimes in Ukraine, Amnesty International finds
Human rights organization Amnesty International on Friday released an investigation into war crimes in Ukraine.
In Bucha, one of the first towns to be occupied by Russian troops in late February, Amnesty found evidence of extrajudicial executions and also found evidence of torture prior to death. In the nearby town of Borodyanka, Amnesty found evidence of indiscriminate attacks which left up to 40 civilians dead.
NBC News has not verified those claims, and Russia has repeatedly denied committing war crimes in Ukraine.
Gnès Callamard, Amnesty's secretary general said: "The pattern of crimes committed by Russian forces that we have documented includes both legitimate attacks and wilful killings of civilians." She called on "Ukrainian authorities, the International Criminal Court and others to ensure evidence is preserved." that could support future war crime prosecutions."
Funerals for the fallen in Lviv
Lithuania's minister of foreign affairs visit Kyiv
We will not use nuclear weapons in war, Kremlin says
Russia will not use nuclear weapons in Ukraine, foreign ministry spokesman Alexei Zaitsev said on Friday.
Zaitsev told reporters that the use of nuclear weapons — a risk long feared by many in the West — was not applicable to Moscow's "special operation" in Ukraine.
Large ammunition depot in eastern Ukraine destroyed, Russia says
Russia's defense ministry claimed on Friday that its missiles destroyed a large ammunition depot in the eastern Ukrainian city of Kramatorsk, Reuters reports.
It also said its air defenses shot down two Ukrainian warplanes, an Su-25 and a MiG-29, in the eastern Luhansk region.
It was not possible to independently verify the claims.
Russian forces prepare for Victory Day celebrations in Mariupol, despite Ukrainian objectives
Russian forces have pushed forward with preparing for Victory Day celebrations on May 9 in Mariupol, despite objectives from Ukrainian officials in the besieged port city.
Petro Andriushchenk, adviser to Mariupol's mayor, said in a Telegram post that Ukrainians continued to "observe preparations" for Victory Day, which marks the defeat of the Nazis in 1945, "despite the public refusal to hold a parade."
"Yesterday in the city St. George's ribbons were distributed en masse," Andriushchenk said. Meanwhile, he said, "in recent days, all the monuments of the Soviet period have been 'restored'."
"Against the backdrop of a ruined city and hungry people, it all looks like a cynical celebration on the bones," he said.
Rocket remnants in Kyiv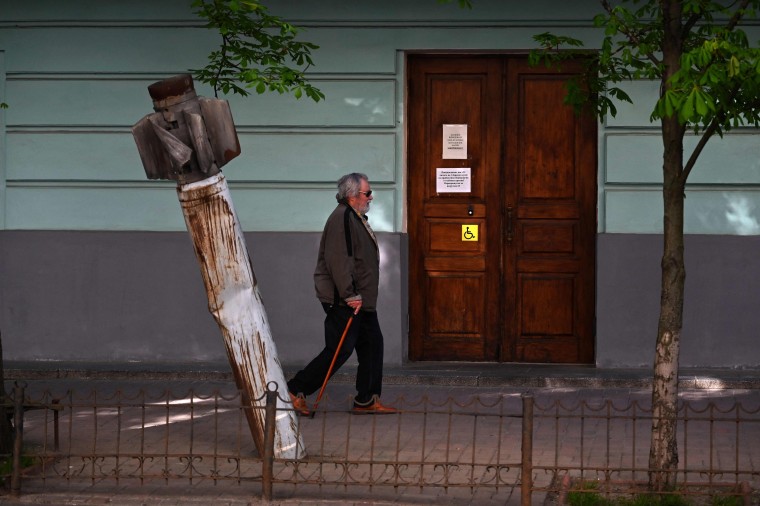 Germany to send seven self-propelled howitzers to Ukraine
Germany will deliver seven self-propelled howitzers to Ukraine, on top of five such artillery systems the Dutch government already pledged, German Defense Minister Christine Lambrecht said on Friday.
Germany reversed its long-held policy of not sending heavy weapons to war zones last week following pressure at home and abroad for it to help Ukraine fend off Russian attacks.
The heavy weapons will come out of the Bundeswehr inventories and be delivered as soon as they emerge from maintenance over the next weeks, Lambrecht and her chief of defense, general Eberhard Zorn, told reporters in the Slovak town of Sliac.
Ukraine's pleas for heavy weapons have intensified since Moscow has turned its heaviest firepower on the country's east and south, after failing to take the capital Kyiv.
Ukrainian journalist joined the fight on the frontlines after seeing war's horrors at home
KYIV, Ukraine — The last time Petro Shevchenko saw his home near Bucha, his daughter and wife were in the car with him as they fled from Russian shells and rockets that had burnt down his neighbors' houses or turned them to rubble.
Now he's watching the Russians do the same in Ukraine's east, where he's leading a military unit on the front lines. The death and destruction he will witness near his home inspired Shevchenko, a former journalist, to join the fight in hopes of pushing back those who invaded his country.
"War knows a few rules, but when they destroy our homes, plunder our houses, rape women and kill our children, you realize that something is wrong," Shevchenko said, recalling how he used to take his daughter to soccer practice in Bucha. "No war is normal, but this unheard-of violence is just too much."
Russia's attack on Ukraine has not caused the country's defenses to crumble, as numerous experts expected. Instead, many Ukrainians have sought to aid or join the fight in any way they can — they resolve hardened by the atrocities they've witnessed.
Read the full story here.
Zelenskyy shares nightly address with Great Britain
Ukrainian president Volodymyr Zelensky addressed attendees at a "Brave Ukraine" fundraiser held by the Ukrainian embassy in London on Thursday.
Zelenskyy reiterated the importance of a relationship with Britain to Ukraine, stating: "Obviously, Russia is annoyed by our proximity — Ukraine and Britain. So this means that we are really strong in defending freedom in Europe."
He also updatedees of the event on evacuation attendees in Mariupol, where he said Ukrainian forces continue to hold out at the Azovstal steel plant: "They have many wounded. But they do not give up. They are holding positions."
In response, British Prime Minister Boris Johnson said that the UK would "continue to intensify" support for Ukraine, stating that it was "a blessing for Ukraine and for the world" and a "disaster for Putin" leading that Zelenskyy was Kyiv, describing the president as "truly one of the most incredible leaders of modern times."
Return to Irpin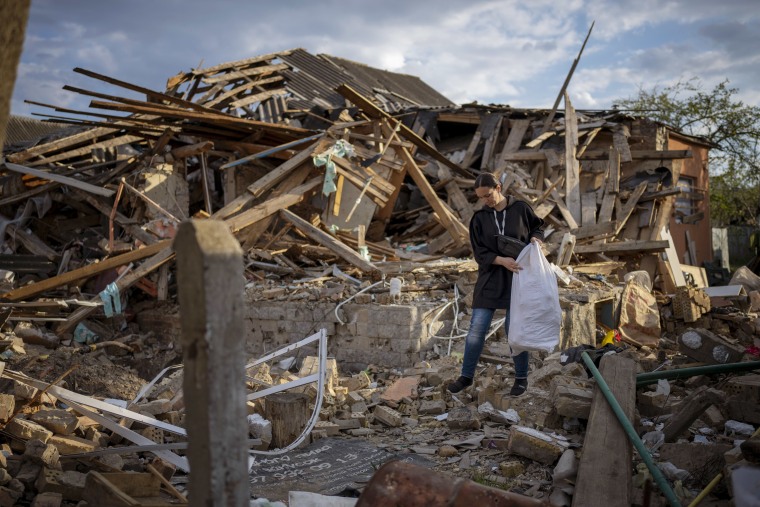 Nearly 500 people evacuated from Azovstal plant, UN chief says
Nearly 500 people have been evacuated from the besieged Azovstal steel works plant in Mariupol, as well as from surrounding areas, in a joint operation conducted by the United Nations and the International Committee of the Red Cross, officials have said.
In a tweet, United Nations Secretary-General António Guterres said two safe passage convoys successfully carried out the evacuations from the besieged areas.
"I hope that continued coordination with Moscow & Kyiv will lead to more humanitarian pauses to allow civilians safe passage," he said.
Jill Biden to travel to Ukraine border, spend Mother's Day meeting refugees
WASHINGTON — First lady Jill Biden's weekend trip to Eastern Europe will include a Mother's Day trip to Slovakia's border with Ukraine, the White House announced Thursday.
Sunday's stop at a border crossing in Vyšné Nemecké, Slovakia, will be the latest by a prominent US government official to the front lines of the Russia-Ukraine war. There, Biden will survey a checkpoint where Ukrainian refugees get basic assistance from humanitarian and Slovakian government workers before they travel farther west to processing centers and transit hubs, the White House said.
At the stop, which will include a visit to a small Greek Catholic chapel, Biden is expected to learn about the experiences of aid workers and refugees and convey the Biden administration's gratitude for the work being done there, the White House said.
Biden on Sunday will also visit a refugee center and school in the larger city of Košice, about 55 miles from the border, where she will participate in Mother's Day activities with Slovaks and Ukrainian refugees.
Read the full story here.
Russian attack on Mariupol plant likely driven by 'symbolic victory' aim, UK says
Russia's continued attack on a steel plant in Mariupol is likely driven by a desire for a "symbolic victory" for Russia's Victory Day celebration, the United Kingdom's defense ministry said Friday.
Russian ground forces continued to attack the Azovstal steel plant, where the city's last defenders are located, the UK said. When Russian President Vladimir Putin declared victory in Mariupol two weeks ago, he ordered his troops not to storm it but to seal it off.
"The renewed effort by Russia to secure Azovstal and complete the capture of Mariupol is likely linked to the upcoming 9 May Victory Day commemorations and Putin's desire to have a symbolic success in Ukraine," the UK said in its daily intelligence update.
Russia's annual Victory Day commemorates its victory over Nazi Germany in World War II.