After years of working in the upper levels of college sports, former Liberty University Lady Flames Basketball player Dena Freeman-Patton ('96) recently achieved her life's dream when she was named Vice President and Director of Intercollegiate Athletics at Morgan State University in her hometown of Baltimore, Md.
Freeman-Patton received her BS in Sport Management from Liberty, followed by a master's in sports administration from Georgia State. She served as an academic coordinator at North Carolina State University (2002-05), the Associate Director of Academics and Career Development at the University of Maryland (2005-07), and the Associate Athletic Director at Georgia State University (2007-13) .
In recent years, she has served in executive athletics roles at CSU Bakersfield (where she was named 2018 Administrator of the Year by Women Leaders in College Sports), the University of New Orleans (Deputy Athletics Director and Chief Operating Officer), and California State University, Dominguez Hills (Associate Vice President and Athletic Director), where she worked before taking the job at Morgan State.
Freeman-Patton was a three-sport athlete (basketball, volleyball, and softball) at Lake Clifton High School in Baltimore, where she was also a strong leader on and off the court and field. The men's basketball coach liked to call her 'Coach.'
"He called me that because I was always fussing about the student-athletes getting their academics in line and doing whatever they needed to do to get to college," she said, laughing.
During her senior season, Freeman-Patton was offered a scholarship to venture south to Lynchburg, Va., to play for the Lady Flames Basketball team.
"I liked what I saw there," she said. "The Vines Center had just been finished, too, so that was appealing."
She credits her alma mater for helping lay a strong foundation for her current success.
"One of the things that I learned at Liberty was how to overcome adversity," she said. "I had two knee injuries and I struggled at the beginning academically, but I learned while I was there how to overcome those things and still continue to move forward. I had a wonderful support system there, and as a student-athlete I was on a team where I learned how to be a team player and how to work together with others to accomplish a common goal."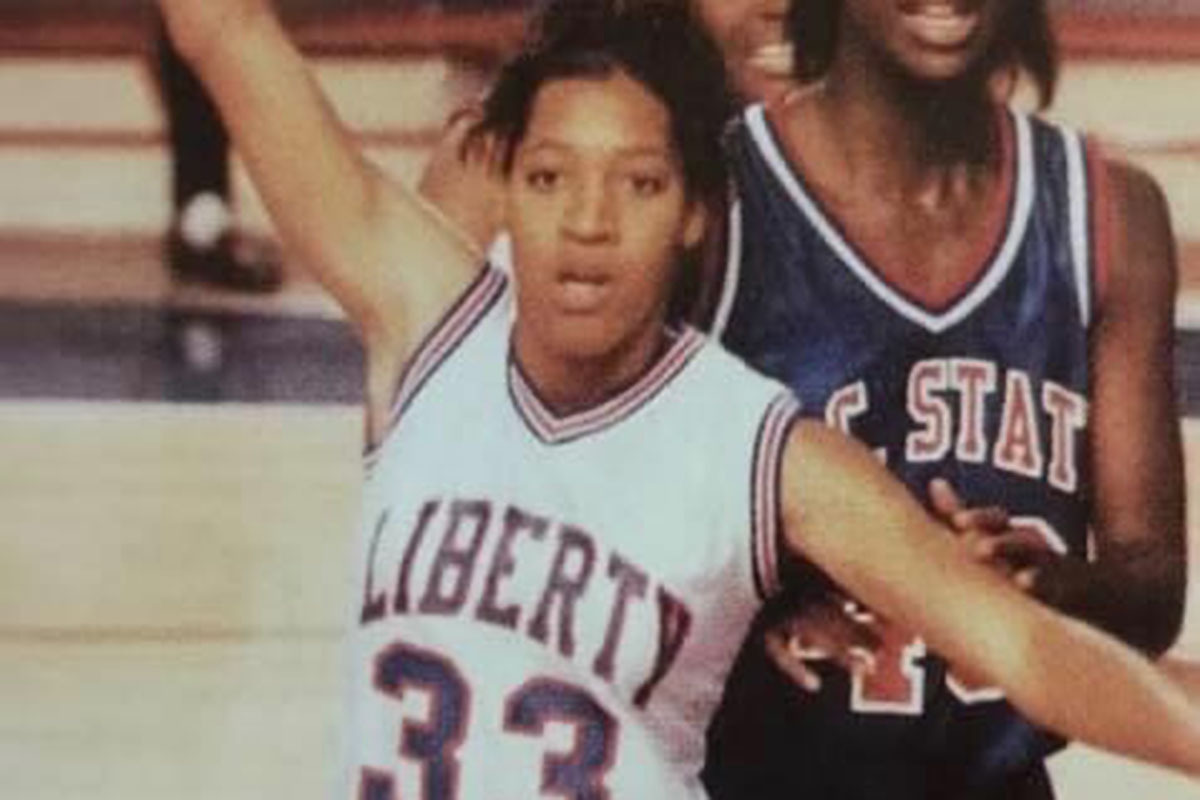 While she enjoyed her time on Liberty Mountain, Freeman-Patton, once a dominant presence on the court, struggled to recover from injuries. But that only propelled her to focus more on her career goals. She originally considered studying finance but quickly changed to sport management, a degree program that was not only an uncommon offering at colleges at the time but also an uncommon choice for female students.
"Liberty was one of only a few schools in the country with a sport management major," she said. "And I was one of only a few women in my classes."
The summer before her senior year at Liberty, she interned with the Canadian Football League's US expansion team, the Baltimore Stallions, during their Gray Cup championship season, and it was then that she realized she had chosen the right career path.
"That was pretty fun and was when I knew that I wanted to work in sports," she said. "When I did that internship and did not get paid and enjoyed every minute of it, I knew that I needed to work in sports."
As her career took off and her life became busy, Freeman-Patton remained tethered to her biggest supporter, her father. He passed away in 2020.
"When I lost my dad, I realized that I was turning down a lot of opportunities because I was (too) comfortable," she said.
Soon afterwards, she applied for the Athletic Director position at California State University, Dominguez Hills, a position she pursued to depart from her comfort zone.
"One of the things that was tough for me was that I wanted my dad to see me make it (to that position) and to see that happen," she said. "He wasn't able to on earth, but I knew he was watching and I know he is still watching."
The Morgan State offer came on the two-year anniversary of her father's death.
Her new position brings her life full circle — she is now working at the same place where her passion for sports took off.
"I'm so excited for this new situation to go back and impact my community, to be able to go home and do what I love to do at the highest level and for my people and for my parents, my family, and my high school," she said. "Ironically, Morgan State bought the property that my high school used to reside on, and I will be a part of developing that property."
Through all of her career moves and lessons learned, Freeman-Patton has prioritized modeling a strong example for her son Cameron to follow.
"He's always seen me as a person who doesn't let obstacles and outside things stop me from reaching my goals," she said. "But he also knows that I'm very humble about it. Some people tell me I don't celebrate enough, but for me, it's not about that. It's not about me. I know that it's about how God wants me to serve."